---
Music therapy is an established, evidence-based health care profession that uses specifically-designed music interventions to address the physical, emotional, cognitive and social needs of individuals of all ages with all kinds of health conditions. Music therapy is used for many reasons including stress relief, inner peace and tuning to a positive mindset. It has been shown to help treat depression and anxiety, and is often used to help elderly clients deal with memory loss associated with diseases such as Alzheimer's disease and dementia. Music therapy was also found to relieve pain, especially related to labor or terminal illness. Music therapy isn't just listening to music. In order for individuals to reap the benefits from this kind of therapy, music therapists encourage the participants to actively create their own music, sing, dance or move to it as well.
Music therapists must have a bachelor's degree (or higher) in music therapy from one of the 72 schools and universities, approved by the American Music Therapy Association. The degrees in music therapy requires the individual to have knowledge in psychology, medicine, and music. Music therapists must also hold the Music Therapy – Board Certified (MT-BC) credential, issued by the Certification Board for Music. Self-proclaimed music therapists are rampant, especially in other countries, and may cause further harm to the individual in consultation. Make sure to check for credentials as mentioned above, prior to consulting.
Music therapy is not as simple as listening to your favorite calming song on a music player. Clinical music therapy is research-based that actively applies science to the art form. The following are good examples of therapeutic music, but are not clinical music therapy:
An individual with dementia listening to his favorite song on an MP3 player.
Bedside musicians, musicians on-call, music practitioners, sound healer and music thanatologists.
Celebrities performing at hospitals or schools.
Piano player in the lobby of a hospital or hotel.
Nurses playing background music for patients.
Student playing guitar in a nursing home.
Accredited music therapists work with: Older adults to decrease the symptoms of dementia; children and adults to reduce episodes of asthma; patients in hospitals to reduce pain; autistic children to improve communication skills; premature infants to improve sleep and weight gain; and individuals with Parkinson's disease to improve motor skills.
Music therapy aims to improve neurological development; improve speech and language; develop fine and gross motor development; improve coping skills; normalize an environment; decreasing the need for or eliminating the need for sedation in medical procedures; legacy creation or memory making; pain management; and emotional management.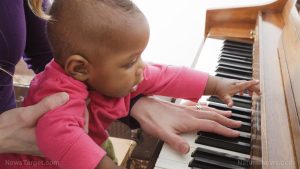 Health benefits of music therapy
Music therapy aims to achieve overall well-being, and in the process, has a plethora of benefits:
Addressing social needs – Music, even out of the context of therapy, is known to serve as a means of communication, especially for individuals who find it difficult to express themselves.
Enhancing physical functions – Musical therapy is known to help individuals suffering from physical handicaps caused by Parkinson's disease and stroke.
Supporting emotions – After suffering from emotional stress, such as heartbreak and depression, music assists a person hasten the recovery period. Happy types of music boosts a person's positive outlook on life.
Improving cognitive development – Learning music at a young age is known to improve spatial and logical thinking, and also emphasizes on the value of discipline and patience. Music therapy can help individuals with attention deficit hyperactivity disorder (ADHD) calm down and focus more, and improve the memory of people suffering from dementia.
Body systems supported by music therapy
Music therapy highly benefits the psychological aspect of an individual, as studies show its benefits in people diagnosed with Alzheimer's disease, ADHD, depression and other cognitive degenerative diseases.
Where to learn more
Summary
Music therapy is the scientific practice of using music to help individuals cope with cognitive disorders.
Music therapy is highly beneficial, and do not have any known side effects.
Music therapy can be used to improve the quality of life of individuals, with or without disease.
Sources include: